Organize Craft And Hobby Supplies


When you take time to organize craft and hobby supplies you're actually freeing up time to spend doing your craft(s) rather than looking for supplies!
Do you have craft supplies and projects that you bought or started years ago but no longer seem to get around to using them? Streamlining and organizing your supplies will help you create more time for your latest craft interest.


How Quickly Organize Craft and Hobby Supplies
1) Declutter and Sort
First start by decluttering your supplies. Let go of supplies you haven't used in ages or which you know in your heart you will not likely use any time soon.
2) Contain with your remaining Craft and Hobby supplies, think about how you would like to contain them. Clear, divided storage containers and ziplock bags are ideal. They allow you to sort and see what you need at a quick glance.
The same guideline pertains to whether you should organize craft and hobby supplies as we applied to paper organizing. Don't spend time on it unless you will be using the supplies often enough for it to make sense. For example, if you only quilt once every few years, there's no need to spend a lot of time organizing your quilting supplies. Just having them all in one container may be enough.
3) Out And About
Many of my creative organizing clients shared that they didn't like to organize craft and hobby supplies because digging through them stimulates new ideas. Although I understand this line of thinking, I still recommend at least a little organizing. Why? When things are easily retrievable, you'll have more time to be creative.
Like Maria Gracia says in her book Finally Organized, Finally Free "as more and more things are left out in the open, they work their way under other things and vanish."
Maria suggests that if you have an "Out and About" personality, you can still use open trays, baskets, and other visual containers giving you the best of both worlds... a little organization AND complete view of your creative tools.
When you have easily retrievable supplies, it allows you the freedom to create rather than search!

4) Designate An Area To Craft
Debbie Williams of Let's Get It Together!, says you can create a crafts center anywhere. She says that your area can be as simple as using a freestanding clothes closet for storage, a card table that can be stored under a bed or sofa and a folding screen to disguise your craft space.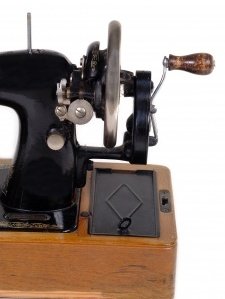 Other Craft and Hobby Supply Organizing Ideas
Hanging shoe organizers have endless possibilities to use to organize craft and hobby supplies. They are wonderfully mobile and perfect for...
Scrapbooking - Sort stickers, punches, stamps, photo tapes, cutting tools, die cuts, etc. into separate "shoe" pockets.
Stamping - Distribute stamps and pads by color, category and so forth.
Knitting - Use each pocket for yarn, needles and patterns.

Totes
Many popular crafts now have customized totes and organizers specific to the craft. Great gift idea! Or if you are on a budget, check these out at your local craft store and make one yourself.

Shoe Boxes

Although I prefer see-through boxes, shoe boxes are often readily available to organize craft and hobby supplies. You can cover them with fabric scraps and be sure to label too!

Drawer Organizers
Anything that divides can be used for organizing. Drawer organizers are good for markers, scissors and paint tubes, glue, you name it!


Under-The-Bed Storage Containers
If space is at a premium, Under-The-Bed Boxes provide ample storage and are easy to pull out at a moment's notice.

Tackle Boxes
These are handy for smaller craft and hobby supplies. Try using for beads, DMC floss, buttons, etc.

Containers
Containers and larger cups are a great way to organize paint brushes, pens, markers, drawing pencils, colored pencils, etc.

Zip Locking Bags
I mentioned these before but they are worth re-visiting.
Zip-Locking bags come as small as "snack bag" size to as large as garment-packing size. They can be ordered in quantity on-line and you can get them pre-labeled and even patterned!
Zip-Locking Bags And Stick-It Notes... what did we ever do without them? :)

Fabric Organizer Idea

Obviously, fabric is a main quilting and sewing "staple."
How about storing your material on miniature bolts replicating those you shop from at your favorite fabric store?
It's easy!
Purchase a large clear plastic container. Find some heavy cardboard or use a cardboard box and cut several pieces an inch or two smaller than the width of your plastic container and as tall as will stand up sideways (allowing room for wrapped fabric).
Take out your material and start wrapping around the mini bolts. Place in container so you can see your beautiful assortment just as you would in the store.

Wrapping paper storage boxes might also do the trick depending on the amount of each fabric that you store. They are easily stackable and they usually fit under the bed.
---
Sidebar for Jewelry Makers:
Are you a jewelry maker who needs help getting organized and would like to start or promote your business? Beadz Mommys Business is an excellent site that includes tons of tips and advice for jewelry makers.

---

In Summary
Designate an area to craft.

Declutter your supplies.

Organize highly-used supplies.

Create, craft, enjoy!

Put away as much as you can when you are done for the day.

When you return you can go right to it!
---

Get Started Organizing your Craft Supplies with eBay
---

Have you ever dreamed about turning your Hobby into your Job?

Did you know that 72% of Americans have or are considering starting a home based business? Are you part of the 72%?
Find out how thousands of folks like me are turning their hobbies into great little home based businesses.
---
Please be sure to visit Home Organize It! often. We will continue to add creative ideas to help you organize craft and hobby supplies.
Make Time For What You Enjoy... Get Organized!
sign up for Organizing Tips, straight to your inbox!