Timesaving Links


Timesaving Links is where you can find any Link referenced on Home Organize It! No need to bookmark links as you are organizing away, just bookmark this page!
There are a few Links that may seem at first glance un-related to Organizing, however, we make every effort to include Links that will help people get more organized in many diverse areas including organizing your home business and organizing your hobbies and crafts.
We hope you will find Timesaving Links useful in just the way we intended...to save YOU Time!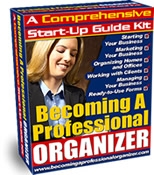 1-2-3 Sort It!

Amy Knapp's Family Organizer

Dust 'Til Dawn Cleaning Service
(Please see bottom of My Cleaning Service Story page).

EasyFile Home Filing System

Faithful Organizers

Family - WorldVillage is the web's leading site for family-friendly internet since 1995

Family-Content.com

Finally Organized, Finally Free Book
Find Your Small Business or Idea

Holiday Planner

Make Your Knowledge Sell!

Make Your Words Sell!

Online Directory of web resources, including Storage

Solo Build It!

Work From Home


sign up for Organizing Tips, straight to your inbox!