Organize Cookbooks And Recipes




Organize Cookbooks and Recipes and stop making the same six dishes over and over!
Cookbooks are being published in huge numbers which means of course we as consumers are either purchasing them or giving and receiving them in abundance!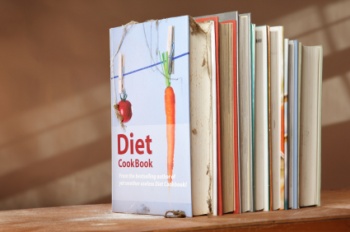 Since I am an avid Internet user and not much of a cook, I don't really use a lot of cookbooks. I have my favorites, all of which have been given to me by family and friends. I use these for holiday pot lucks and so forth.
For the most part, however, I find recipes online. If I have a round steak in the freezer, I key in "round steak recipes" and find one I like. Then I print it, make it, and depending on whether we liked the meal or not, keep the recipe in a 3 ring binder.
Speaking of three ring binders... these are great for recipes! Use a small one for recipes already on a card and a standard sized binder for recipes collected from magazines or that you have printed.
Occasionally I cook dishes from my favorite cooking magazine, Taste of Home. The recipes they publish are always delicious and when I'm not the mood for cooking, I still enjoy browsing through the magazine and dreaming that a gourmet chef is cooking for us before we have burgers from McDonalds!
Another option for Internet users is to use a meal planning kit like Menu In A Box. This particular kit is perfect for me, a busy mom of three who did not inherit my Grandmother's cooking talents. "Menu in a Box" is a 100 day meal planning kit that includes 20 weeks of shopping lists and easy recipes as well as time saving, budget and organizational tips. All you have to do is read, check your staple supply, shop and cook.
By the way, many of you have written to Home Organize It! asking me to recommend the best easy recipe web sites.
Well...
I happen to have recently worked with a woman named Elizabeth who led the co-writing of an e-book (for work at home mothers) that we wrote with two other moms and she has a web site called Healthy Eating Made Easy.
Elizabeth lives in East Anglia, in the UK, and she is really into making healthy eating choices a lifestyle. Elizabeth has a blog, e-zine, 7 day e-course, easy recipes, fitness plans, tips on feeding kids and well... it's pretty much an all-around fantastic site. I do hope you check it out! The only caveat here might be that some of the ingredients in recipes or certain terms may be unfamiliar to non-British folks. However, you can always contact Elizabeth through her site and ask her questions.
Okay, back to our quest to organize cookbooks and recipes. While I may be an Internet recipe user, you on the other hand may have a wonderful collection of Cookbooks and Recipes. But, do you find yourself making the same dishes over and over? Sure, we all have our faves, but the fact is, if we Organize Cookbooks and Recipes, it's very likely we will be excited to try new meals again.


Cookbooks
If you have lots of Cookbooks, pull them out and make two piles:
Box up the Give Aways and put them in your car to be donated to your favorite charity.
Sort your remaining cookbooks into categories that make sense to you. Here are some ideas:
Baking

Desserts

Entertainment

Holiday

Special Diets

Vegetarian
Now locate an area that makes sense to you to either display or store your cookbooks. Some like to arrange cookbooks "bookshelf style" while others prefer to line them in an upper cabinet. It's best to keep them in the kitchen if you use them frequently. No matter how you choose to organize cookbooks and recipes you'll be glad you did every time you want to plan and make a meal.

Okay, now that you are warmed up, let's tackle the pantry!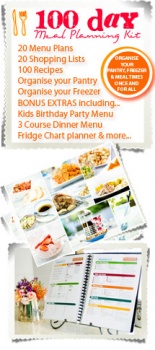 sign up for Organizing Tips, straight to your inbox!