Organize Closets




Organize Closets first to help create valuable storage space to be used as you work through your home.
Closets are one of my favorite spaces to organize. Why? They can be transformed into efficient, usable space in just one or two organizing sessions...and they also have doors :)
Doors, however are the main reason why so many of them get out of control. Just put stuff in there and close the door! Well, if you are tired of having stuff fall out whenever you open them, you have come to the right place!

Let's Organize Closets Now!
Before you begin to organize closets, the first thing you need to decide is what you want to store in the closet. You will need to decide this for any closet that you organize.
Is this a closet near an outside door? Does it make sense to store outerwear, umbrellas, boots etc. here?
Or perhaps it's a hall closet where traditionally you might store bedding and blankets. I encourage you to consider other (than "normal") options when you organize closets.

Clever Ideas For Organizing Closets

Here are a couple of examples.
I love photos. I have LOTS of photos and have them in about twelve totes sorted by various categories. We have a hall closet that I used to store blankets and bedding in. However, I decided there was room in everyone's bedroom closet to store their own bedding so I moved everything to the appropriate room and put all of my photos into the linen closet! It works beautifully and I have a great storage area for my photos where I have easy access to them whenever I want to frame, scrapbook or put an album together. Everyone has their bedding in their own closet (and now they make their own beds! :)
One client had lots of board games and puzzles. She put her utility closet to better use by storing these items on low shelves so her children could get at them. It was located in an area where they usually played the games so it made great sense!
You get the idea. When you organize closets, Look at the location, the size and what else you could use it for besides it's traditional purpose. After you decide it's time to...


Take a "Before" Photo!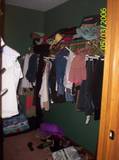 Really, it's so fun to look at "Before's" and "After's." Zoom in on all that stuff and take a pic!
All set? Now it's time to...

Unload The Closet!

Take everything out of the closet. Yes, everything. It will probably look like a lot of stuff and maybe it, is but don't get overwhelmed. All that stuff will not be going back in. It probably wouldn't all fit anyway!
Okay, there is no turning back now so take a deep breath and let's organize closets! (Go ahead and give it a good cleaning if you need to, I will wait right here).

Divide

Are you ready? Divide everything into three initial piles: Keep, Give Away and Trash.
Quick Tip: The more you get rid of (Give Away/Trash) the easier your organizing will be! So be strong! Only keep items that you really like and use.
If you need to try something on to see if it fits, it is possible that you don't wear it anymore. Perhaps it is out of style or maybe you are tired of it. Can someone else put it to good use? Go ahead, give it away!
Now bag up the trash and take it out of the house. Then bag or box up the Give Away items and put them in your car so you can drop them off the next time you are out. This helps remove the temptation to retrieve something.

What's Left?

What do you have left? Does it make sense to divide by season? family member? frequently used items vs. infrequently used items? Should some of these items go in another area?
Decide on categories based on what you have left. You can do it! If you have a unique organizing challenge, complete the form below and Home Organize It! will come to the rescue!
When you have everything sorted and have decided how to use your closet, it is time to consider whether you should add shelves, a closet system, baskets, hooks, a second rod, a shoe rack, totes and so forth.Quick tip: Adding shelves near the ceiling increases your storage space. Put off-season or seldom-used items on these high shelves or in labeled storage boxes that are pest-proof to go into the outside storage, the garage or the attic. Ready to re-load?

Time To Move Back In!

Hang coats and clothes facing one direction. Put long coats on either end and shorter ones in the middle. Put frequently used items near the front and seldom-used items up high or toward the back. If you want children to be able to reach something, keep this in mind when re-loading.
Well, how does it look? Organized? Spacious? Well done!
Go grab the camera and take an "After" photo. As an extra motivator, hang "Before" and "After" photos inside the door as a reminder of your organizing accomplishment!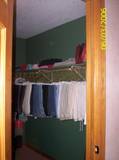 Which Closet Will You Organize Next?

sign up for Organizing Tips, straight to your inbox!

Go To Organize Your Hung Clothes

Go From Organize Closets to HomeOrganizeIt!