My Dad's Collections
by Tracy Chiatello
(San Francisco)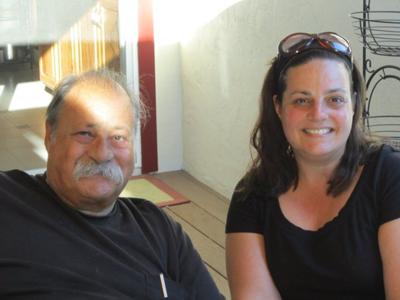 My "less is more mom" has been married to my "confirmed collector" dad for more than 40 years. Their approach to stuff has always been different and at times a point of contention. My mom's mantra is "Don't give me anything I have to dust", where my dad's is "That would look great on the shelf with all of the other ones I have".


My dad's retirement and subsequent free time prompted my mom's suggestion to go through his stuff in the garage. To say her suggestion was met with resistance would be an understatement. Frustrated and knowing I would be an ally in this battle, she asked me to help him.
My dad and I fought, laughed, and cried our way through the process of letting stuff go. The tent trailer is gone, the attic is clear and my mom can park in the garage again. But the real success is the new relationship I have with my dad.
While we sorted through his stuff, we talked about things we'd never really talked about before. He told me it was really difficult to lose his father at 29 and I began to appreciate why he held onto grandpa's welding equipment though he didn't weld. He asked me if my sisters and I honestly enjoyed all the camping trips we took (yes!) and I understood why he held onto gear he hadn't used in ages. And he confessed that he often kept items he knew he'd never use again because without them his past would be lost. That's when I realized my dad wasn't a collector, he was a builder. And what he had built was a very large scrapbook.
Together we figured out how to keep the memories without keeping all of the stuff. He wanted the things he cared about to be loved and useful so we struck a deal. If I found those items a good home, he'd let the stuff go. I organized garage sales, dropped donations off at libraries and charities and posted ads on Craigslist. Slowly we made some real progress.
My dad still likes his collections, but he's more thoughtful about what he collects and I'm more understanding about his emotional attachment to stuff. He is encouraged about how he can use the newly opened spaces and I'm inspired to do more organizing. Mom, meanwhile, is very happy to have less to dust. ;-)
Tracy